Time to move & learn
Movement experiences for your goals
Not only will you gain strength, flexibility, balance, but you will also increase knowledge. You will learn healthy movement patterns you can take to other movement activities for sports, weekend warrior activities, and house/ yard chores. These healthy movement patterns will help you reduce pain and injury and improve performance and physique.
Group Classes for All Fitness Needs
Classes are 50 minutes
Knowing what class to go to based on your needs is important. TheraFit will offer restorative, therapeutic and physically challenging Pilates classes. Classes for: Osteoporosis, prenatal/postnatal, spine, post rehab hips/knees, pelvic floor, balance/posture. As well as classes to target those stubborn body areas: Belly/butt/thighs, head/neck/shoulders. And classes for the athletes.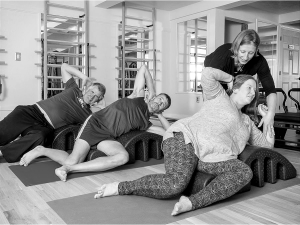 Gain Access to State of the Art Pilates Equipment
Breath, concentrate, control, center, flow, precision
Therafit uses top of the line Balanced Body Pilates equipment. Equipment is used to help enhance, support, ease or challenge movement patterns. Pilates Reformers with tower systems and foot plates, CoreAligns, Pilates Combo Chair, Pilates Arcs are all utilized, as well as other "toys", depending on the class you select.
Start with a one on one session and try our equipment for yourself. Whether you are interested in regaining, maintaining, or improving your fitness you will find classes and high end Pilates equipment to achieve and exceed your goals.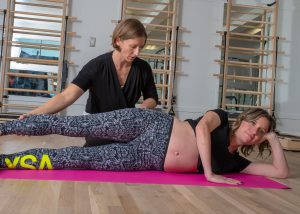 Solo Classes
If you want a very personalized training session this is for you. You will get a generous 50 minute direct one on one focused training session with the instructor, targeting your fitness needs and goals. You'll be hooked by session's end and will want to continue with your fitness adventures! (By appointment only)
Duet/Triplet CLasses
These 50 minute work-out sessions are for like minded fitness individuals, who could be friends (or future friends)/family, that have similar goals for health and wellness. By getting together you save $$, but still get an individualized movement session targeting your fitness desires. (By appointment only)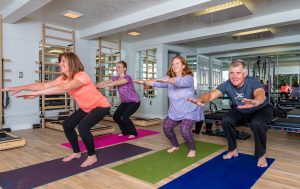 Group Classes
Sometimes we all need a little motivation to make time for health and wellness every week. These group workout classes will get you motivated to come make you a priority for 50 min at the studio! Come to a class to be guided through safe, yet surprisingly challenging movement sequences that will help center you and make you more mindful in your own body.